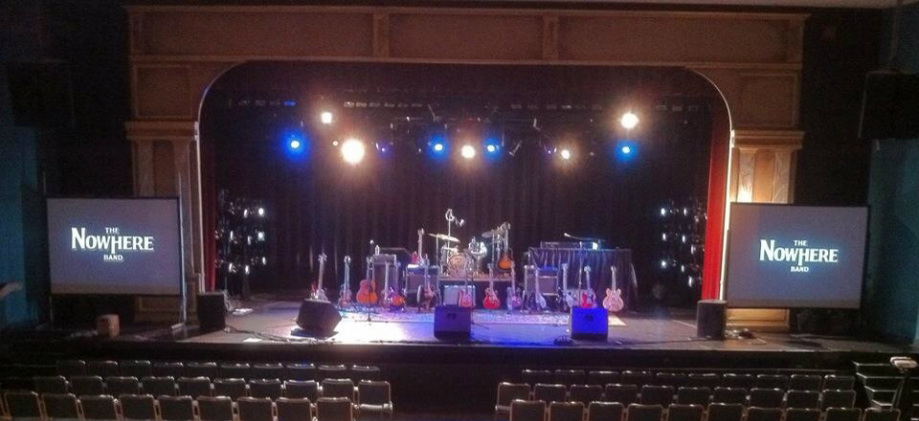 Meet The Nowhere Band:
We are a Florida-based band utilizing vintage, historically accurate equipment to flawlessly recreate the Beatles' most iconic performances. Setting us apart from the competition is our eye for detail and obsession with accuracy. Featuring not only the stellar performers profiled below, The Nowhere Band casts a spotlight on history, our shows star a menagerie of museum quality instruments: over twenty guitars, seven drum sets, a '69 Fender Rhodes, a '69 Hammond C-3, a '68 Fender Bassman, a Vox T100, Fender Twins, and Vox Ac30's. What this exhaustive collection means for the fan is a stunningly accurate live recreation of the Beatles' final rooftop performance over Apple Studios (a feet our band reenacted 50 years later with all requisite instruments and set lists), a painstakingly researched set dedicated to the Beatles' February 9th, 1964 Sullivan Show performance-- complete with a fully-costumed Sullivan impersonator-- and another moment in history our band relived with fans, on another Sunday night exactly fifty years later, to the hour.

But where The Nowhere Band truly raises the bar is in our capacity to play songs live The Beatles never were; our shows include real-time performances of studio cuts, a bit of music magic achieved through our keyboard player (putting us in a very select league), who brings all the orchestral effects and musical flourishes to vibrant life. As a result, our roster of material sits at over a hundred songs, a list we're constantly expanding.

With a reputation for sellouts at most venues and cultivating a strong following in the Southeast, our band has has seen no personnel changes since its creation; all our performers share a great respect for one another and look forward to every chance they have to perform the greatest music every written.



Steve Lavalley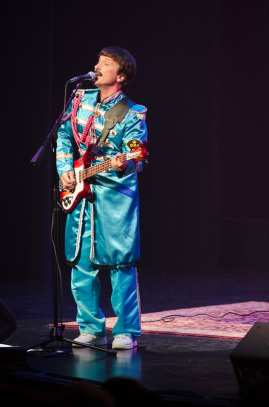 Paul

Steve comes from New York and is a long-time admirer of a certain bass player from Liverpool, Steve was more than happy to lend his years of guitar and bass-playing experience to The Nowhere Band. "These songs, when played correctly and in the spirit of the originals, have an energy and emotion all their own that audiences have really responded to. It's great to be working with other musicians that are as dedicated to capturing the authentic feel and presentation of this most special era of music," says Steve.

Hobbies: Flying kites and trampolines.

Influences: Billy Shears and a walrus.

---
Chuck Noonan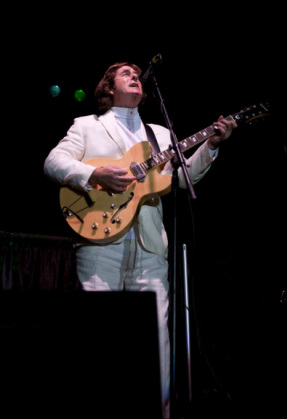 John


Providence RI - Chuck, who has been an ardent Beatles fan (John Lennon in particular) since early childhood is delighted and honored to portray John in The Nowhere Band. In the process of researching the music and lives of "the Lads from Liverpool", he is constantly awed by the genius and creativity they displayed and the impact they made on music and the world.

Hobbies: Guru-ing

Quote: "Life is what happens while you are busy making other plans." -John Lennon

---
Donavon Christenson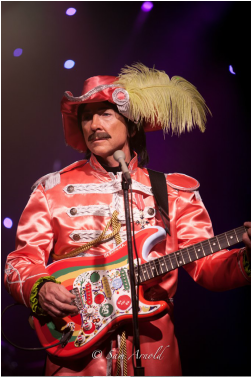 George


Donavon, (Columbus Ohio) is an amazingly versatile guitarist and well-versed in several musical styles, having performed country, rock, blues, light jazz... his true love in music, however, has always been The Beatles. "I was fortunate enough to have grown up in the 60's listening to The Beatles," he says. Learning their songs at an early age provided Donavon with a solid foundation in harmony, theory, and composition which has served him throughout his musical career.

Favorite Music Moment: Meeting Carl Perkins.
---
Dave Radford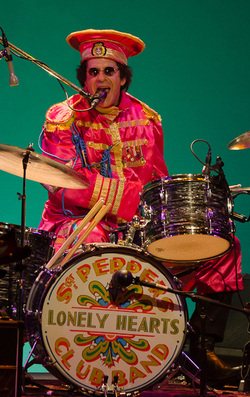 Ringo


Memphis Tn - Under the influence of the Beatles since February 9th, 1964; Dave is the band's drummer, private pilot, historian, and stickler for authenticity. An ardent collector, when not playing (and loving) the drums (or restoring vintage Corvettes), Dave thrives on the challenge of recreating each and every piece of Beatles' history.
---
Karkey Karkalits
(who handles all the extra icing on the cake: Roy Young, Billy Preston, Nikki Hopkins, London Festival Orchestra)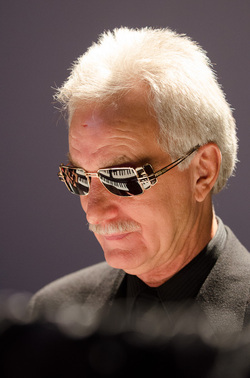 Our own Mr. K, who hails from Miami Fl, is Now celebrating over 50 years as a
professional musician and entertainer. It all began at 2 and ½ years old
when he kept going back to the piano and picking out melodies and
improvising by ear and having fun. He began his early professional career
when he was 11, playing Hammond organ at resorts and supper clubs in
Florida every summer as well as organist for the spring training games for
the Pittsburg Pirates. Serious classical piano training began when he was
6 which continued for 16 years which included 7 years at the Florida School
for the Blind and 4 years at Florida State University where he majored in
piano and music therapy. There, he also studied electronic music
composition on the first Moog Synthesizer under the direction of Dr. Robert. Moog.

Karky recorded his first pop Organ record when he was 16, "Karkey At The
New Hammond", and began playing numerous promotional concerts around the
southeastern U.S. as one of the featured organists on the Hammond Artist
Series. Through the years he has performed with various groups and did
session work and jingle production at numerous studios.

Special highlights for me , he recalls, are performing "my own serious piano
composition in Toronto Canada, playing grand piano on stage with Guy
Lombardo and the Royal Canadians and performing with Tanya Tucker and
Mickey Gilley and now The Nowhere Band".

From time to time he mentions that another highlight would be to drive the bus to the next gig!

(We try to discourage that :-)

---